WHY DO AN EMPLOYEE SATISFACTION SURVEY ANYWAY?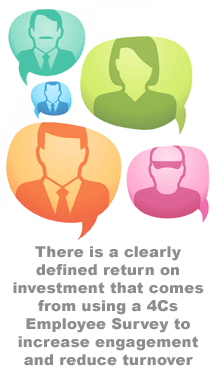 Extensive research proves that committed and loyal employees have a direct positive impact on your company's
performance and profitability
. A well-designed employee survey can give you the essential information you need to
improve employee engagement
.
The Insightlink 4Cs approach lets you see where your company stands on each of the critical 4Cs of employee satisfaction:
Commitment
to assess employee engagement,
Culture
to gauge leadership and accountability,
Communications
to identify roadblocks to effective management, and
Compensation
to measure employee perceptions of pay and benefits.
Surveying your employees based on all four factors together can more effectively measure employee engagement than other approaches.
An Insightlink 4Cs employee survey can also help you effectively identify problem areas within your organization. With this valuable insight, you have another tool that can be used to improve your company's bottom line.
Our Fully Benchmarked 4Cs Employee Engagement Survey allows you to
compare your company's performance
, both within your industry, and nationally, in the U.S. or Canada. Surveys can be deployed online, or by paper, in multiple languages and in as many locations as your organization requires. Whether you have 50, or 50,000 employees with or without Internet access, we can tailor a solution that's both cost-effective and appropriate for your needs.
Get a no-obligation quote now
.
We also have extensive
benchmark norms
for most industries in the USA and Canada. Find out why valid normative data is critical to the success of your project and your action plans.
WHAT TO DO AFTER YOU GET YOUR RESULTS
The bottom line here is that you have to
take action on the results
and make at least some changes to your organization. In our experience, employees really resent taking the time and effort to give their opinions simply to have those opinions shelved or ignored. Doing employee research and then failing to take action or make positive changes can be worse than not doing a study at all.
Developing a plan of action based on your survey results and implementing it effectively is vital to any survey initiative. An important part of effective action planning is to decide the top 3-4 issues you really need to work on immediately, which items you can work on in the future and which ones you simply cannot address. Our
4Cs Action Planning Guide
is designed to help you make these decisions and our
reports
make it easy for you to create an effective plan.
ARE YOU READY TO FIND OUT MORE?
If you already know the
value of increasing employee satisfaction and you are considering implementing a survey
at your organization, review the following questions to make sure that you will get the full benefit from your efforts:
Is senior management fully committed to the initiative and willing to make changes based on the findings?
Is HR ready to devote the time and resources on the administration and communication of the process?
Are you prepared to share at least the highlights of the results -- both positive and negative -- with employees?
Do you have a budget and timeline in place for your project?
If you've answered yes to the above questions, contact us today to find out how affordable and effective our 4Cs model for employee satisfaction and engagement can be.
Call us at
1-866-802-8095 x705
or email
info@insightlink.com
for more information.
Most Recent 4Cs Blog Posts
We are committed to sharing our knowledge and experience with you. Keep up with the latest
news and trends in employee engagement
here
.
Wishing Our Valued Clients and HR Professionals a Happy and Stress-Free Thanksgiving!
Monday, November 20, 2023
---
Empowering Your Team: Proven Strategies to Uncover and Develop Hidden Talent
Monday, November 20, 2023
---
How to Build a Positive Company Culture Using Social Media
Monday, November 13, 2023
---
The Importance of Workplace Environment in Employee Engagement
Thursday, November 2, 2023
---
The Domino Effect: Promoting Wisely to Retain Top Talent
Tuesday, October 17, 2023
---
How Business Travel Can Enhance Company Culture
Friday, October 6, 2023
---
The Modern Workplace Dilemma: Navigating Work Stress and the Temptation to Quit
Thursday, September 28, 2023
---
Best team building activities to strengthen your culture
Tuesday, September 26, 2023
---
The Impact of Coworking Spaces on Employee Productivity and Satisfaction
Friday, September 15, 2023
---