360° Multi-Rater Surveys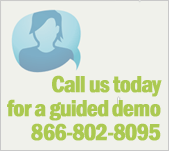 Insightlink's 360 system is an easy-to-use online program for creating 360 projects. With a few simple clicks, you can add in both subjects and raters, issue invitations and reminders and then access individual reports for distribution to those being evaluated through your 360 program.
The standard
Insightlink360
survey is designed to assess behavior across nine skill sets that represent the primary contributors to success at most organizations. These nine skill sets are:
Communication
Accountability
Leadership

Creativity and Innovation
Problem Solving
Managing People

Managing Work Flow
Building Relationships
Customer Service
The survey has a variety of ratings within each of these skill sets. In our experience, the more specific the attribute, the more direct action can be designed to optimize employees' strengths and help them improve on their areas of weakness.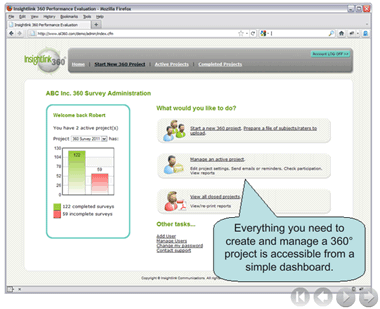 Click the image to view an animated demo.
Each survey also includes two open-ended questions that are designed to provide useful direction to each subject on the areas where they perform well and on recommendations for improvement. By combining quantitative results from both subjects and raters with open-ended feedback, the Insightlink360 survey provides an effective and action-oriented view of each subject's recent performance.
DOWNLOAD SAMPLE SURVEY
Just measuring an employee's performance alone is not enough. You also need 360 reports that are easy to access and easy to read. The Insightlink360 report summarizes each subject's ratings and is designed to highlight the similarities and differences between how subjects view themselves and how those around them perceive them. This "all round" view is, of course, one of the primary values of conducting 360 reviews.
Each report also includes a brief summary of the Insightlink360 approach, straightforward guidelines for interpreting the results and recommendations for action planning.
DOWNLOAD SAMPLE REPORT
Here at Insightlink, we realize that it is not unusual for both 360-degree subjects and their raters to be anxious about how these findings will be used. For this reason, the expectations of what subjects should do with their 360-degree feedback should be very clear before the process begins. Those being rated should also be informed of what organizational support will be made available to them. Those who are rating others need to know that this process is an assessment for development purposes and is not a performance appraisal or part of a salary or promotion review.
Getting honest answers from 360 project participants is critical to the effectiveness of
Insightlink360s
. Inaccurate feedback and, even more importantly, the perception of inaccurate feedback will seriously jeopardize the credibility of the process. Negative outcomes such as punitive feedback, inappropriate development goals, emotional distress, organizational cynicism and a refusal to participate in future 360-degree reviews could all result if the credibility of the system is thrown into question.
To avoid these negative outcomes, it is imperative to explain the intended purposes of the 360 review feedback process. The most valuable outcomes from effective 360 evaluations are to achieve:
Increased awareness of each other's work-related behaviors, including both strengths and weaknesses, which means that issues and opportunities for development become both apparent and actionable.
A greater alignment of performance expectations between immediate supervisors or managers and their direct reports.
More effective internal communications and feedback mechanisms.
A clear road map to improved performance throughout the organization, with longer-term impacts including increased customer retention and loyalty and higher profitability overall.
Those rated through the Insightlink360 program demonstrate:

Increased self-awareness and skills improvement.
Improved accuracy of their self perceptions.
Greater "promotability" within the organization.
More positive attitudes toward work.
Interestingly, the greatest improvement often occurs among subjects who receive the most negative feedback from their colleagues or those who consistently rate themselves higher than their co-workers rate them.
The creation of specific and measurable action plans is essential if change is to result from a 360 review process. The planning process should not only include setting clear goals, time frames and action steps but also must include follow through to ensure that the plans are put into place. Before committing to this type of review, taking the time to establish templates or models and best practices for 360 action plans will greatly assist in the development of truly meaningful outcomes.
Finally, 360 review participants should be held accountable for their progress in accomplishing their goals every few months. This may include follow-up meetings with their immediate supervisor or manager and/or discussions with those who provided the ratings. Evidence has demonstrated that:
Subjects who follow up on their formal 360 review ratings show significant improvement in their overall performance, and
The frequency of follow up is positively linked to the degree of positive change made by the subject of a 360 review.