Our Services: What We Can Do For You
"Our goal is to make employee surveys easy for you with our time-tested tools and reporting"
4Cs Employee Surveys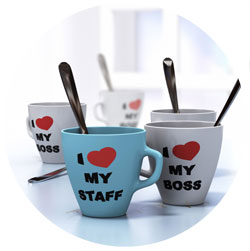 The best outcome we can get from an employee survey is to help a client improve their satisfaction scores in a consistent and meaningful way. We've spent two decades working with companies like yours to refine and optimize the employee survey process.
We believe the 4Cs methodology is the most effective approach available, delivering the kind of results that you can really use to make positive change and maximize your employees' potential.
We start with our comprehensive standardized 4Cs questionnaire database and then select the appropriate questions and customize the final survey to meet each client's individual needs. You'll never be forced to use a "one size fits all" cookie-cutter survey template, and you'll benefit from our vast experience and reliable benchmark norms.
Read more about the 4Cs approach in detail here.
Ultimately, our approach will get you the knowledge and insight you need to improve job satisfaction and employee engagement and all the benefits they bring!
Contact us now to
learn more
, get a
free demo
or a
no-obligation quote
. We'll be happy to share our standard survey with you, show you example reports, explain our survey process in more detail and answer all your questions.
What We Promise You
No-hassle, worry-free survey execution. We handle the technical stuff.
Dedicated staff and quick repsonse to all questions.
Unsurpassed strategic analysis. We tell you what it all means.
Reports you can understand. We don't just give you raw data.
Results you can use to boost employee engagement. We mean it!
Our Clients Agree...
We have been very pleased with Insightlink's high level of quality of service. They have always been flexible and accommodating to our specific needs. At the National Association of Independent Schools, we have a very small research group; therefore relying on the kind of work that Insightlink can deliver for us is crucial. We consider them an extension of our own team. The quality of the reports and the analysis are consistently exceptional!


Amada Torres
National Association of Independent Schools


Read more testimonials