Within each of the 4Cs you will find out what is important to your employees and how well your organization meets their expectations. With this approach, we summarize the major gaps in attitudes, and, by showing these gaps graphically, our clients can quickly identify their primary opportunities for improvement.
What Drives Employee Engagement and Satisfaction?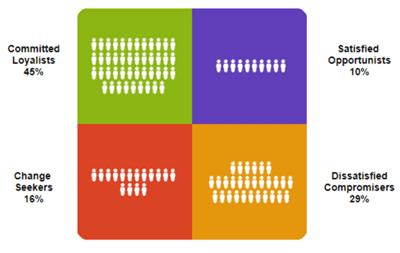 A key tool for understanding the attitudes and opinions of employees is Insightlink's Loyalty Matrix. By combining how satisfied employees are, and how long they expect to stay at the organization, we can classify all of your employees into one of four groups:
When combined with our strategic analysis of your 4Cs, we give you the tools and information you need to maximize the number of Committed Loyalists within your organization.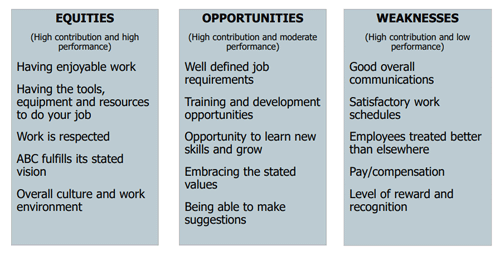 The added value of our employee surveys becomes especially evident when you consider the "drivers" - the factors within an organization most highly related to job satisfaction.
It's important to identity these drivers within the specific context of your organization, and then determine how well your organization is performing on each of those drivers. Using our Motivations & Drivers Analysis, you can focus on the elements of your organization that are most in need of improvement.
Are you ready to find out how our comprehensive approach to employee satisfaction & engagement surveys can help in your organization?
Find out what hundreds of other companies have discovered: That the small investment required to achieve measurable improvement is not just a benefit to employees, but to you and your entire organization as a whole. From our comprehensive library of 4Cs employee survey questions, there's an Insightlink employee satisfaction survey that's just right for your organization. Contact us now to
learn more
, get a
free demo
or a
no-obligation quote
. We'll be happy to share our standard survey with you, show you example reports, explain our survey process in more detail.
Our Clients Agree..
The staff at Insightlink worked with our company throughout the survey process. The survey clearly pointed out areas of concern and we then were able to address these areas immediately. In addition, the company provides a goal plan to address the issues at hand. We have used the survey on two occasions. We were easily able to compare the information between the two years and we did see improvement in the overall operations of the company as well as more engaged employees.
Sylvia Villalva, HR Director
LPDC
Read more
client testimonials
here and read our
Survey FAQs
if you have more questions.