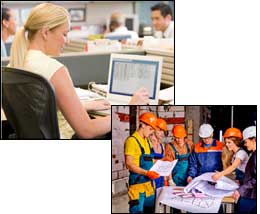 Insightlink Survey of the American Workplace
Every year since 2001, Insightlink has conducted an extensive survey of the American Workplace to measure the attitudes and opinions of U.S. employees across a broad range of industries and company sizes.
The survey itself is a comprehensive look at workplace issues, including ratings of almost 300 individual topics and concepts from basic job satisfaction to attitudes toward management, company values, workload, communications and much more.
The complete database is updated annually and contains more than 10,000 responses from full-time employees across the country. From these results, we get a fully representative picture of American workers and their feelings toward their work, their colleagues and their employers.
Key Highlights from the 2022 Study
Just six-in-ten employees are extremely or very satisfied with their jobs
Seven-in-ten agree that their jobs are extremely or very well defined
On the other hand, almost 70% also agree that their work is stressful
More positively, eight-in-ten believe that their work contributes to the success of their organization
But only about half agree that they see effective leadership from senior management
One of the takeaways from this year's study is the increase in the number of employees who find that they continually have more work than they can finish. This has increased steadily over the past few years and now affects more than one in every four employees in the U.S. This "culture of overwork" is becoming a serious health concern, especially since only one-quarter of all employees strongly agree that they can achieve a satisfactory balance between personal/family obligations and career responsibilities.
Read more here
.
As specialists in employee surveys, we use these results mainly to provide rigorous benchmarking comparisons for our clients.
Learn more about how benchmarking works here.
Additionally, as part of our commitment to help employers improve employee engagement and to help the business community better understand the drivers of job satisfaction and engagement, we also regularly make this dataset available to academics in the fields of HR and Management for further study and analysis.
For more information please contact Robert Gray at 866-802-8095 x702 or at rgray@insightlink.com.