There are many different aspects you can improve when attempting to take good care of your employees, but making efforts to reduce and enhance their work is arguably the most important factor. Of course, this doesn't mean oversimplifying roles, but rather ensuring your employees have all the resources necessary for performing their job optimally, in an effort to increase productivity, efficiency, and job satisfaction. Here are some simple yet effective ways you can achieve just that: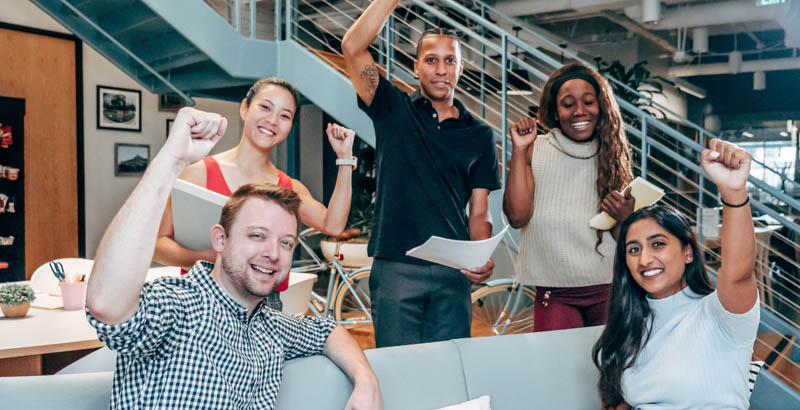 Photo by Kindel Media:
Focus on good communication
Communication is key to building strong relationships with employees, making their work a bit easier, and boosting productivity and efficiency in the process. To improve communication in the workplace, make sure different communication channels are open and available to everyone, from conversation platforms and
video
conferencing tools to emails and in-person conversations. It would also be wise to talk about more than just work responsibilities in an effort to enhance your professional relationships, such as sharing good and bad news, celebrating major accomplishments, and clearly identifying your main purpose and values.
Make their work meaningful
To make tasks easier to complete and responsibilities simpler to handle, it might also help to provide your employees with more meaningful work. You can do this by encouraging autonomy and empowering your workers to create their own schedule and work environment that enables them to perform optimally. Similarly, you could create smaller independent teams that have the freedom to make important decisions. Both of these tactics can motivate and encourage employees, while independence leads to higher job satisfaction.
Provide the necessary tools
While focusing on communication and making work more significant will have a big impact, work simply can't be made easier without the right tools. If you work in front-line industries, for instance, this means providing your workers with an efficient tool such as a high-quality
panel PC
that's resistant, durable, and flexible enough to ensure optimal operations even in more challenging work environments. In case you're on the corporate side of business, however, software solutions like team and project management applications will be necessary for enhancing processes. No matter the sector, great tools are needed for increasing productivity and ensuring a positive work experience.
Give and accept feedback
Regardless of the industry you operate in, you simply can't expect your employees to grow and improve without giving them
thoughtful and constructive feedback
. However, it's important to learn how to listen to your workers and accept their feedback as well. The only way to know exactly what your employees need to make work easier and boost efficiency is to ask them and accept their suggestions. So, make sure to cultivate an open and honest work environment where employees feel free to provide valuable feedback, and consider holding regular meetings or one-on-one conversations for taking their suggestions.
Cultivate a positive culture
Positive company culture includes elements such as flexibility, diversity, and inclusivity, and is crucial for employee happiness and satisfaction. Flexibility enables employees to work following a certain schedule and in an environment that works best for them, thus boosting efficiency and job satisfaction while lowering stress and overall costs. Cultivating a culture of recognition through sharing accomplishments and giving small awards could also be a brilliant way to make your workers feel appreciated and valued, and motivate others to
achieve the same success
.
Provide growth opportunities
There's no doubt that providing your employees with opportunities to develop and grow is one of the most important factors when it comes to retention, but it could help in increasing job satisfaction levels and making work easier as well. The best employees are only devoted to their roles and remain in their jobs when the work can give them meaning and challenge them in different ways. With that in mind, consider offering personal and professional growth opportunities to your employees in order to enhance their work experience, whether that means giving them more significant duties, offering higher pay, providing better benefits, or additional, job-specific training.
Clearly, there are many ways you could make work easier for your employees, from enhancing communication to providing new growth opportunities. No matter which solution you decide to implement, improving the employee experience will be crucial for your company's long-term growth and success.