4Cs Blog: Happy Employees = Happy Customers
---
Posted by Insightlink on 10/22/12

57 Free Ways to Recognize Employees
Found this great list on the University of Washington's Human Resources Web Site. It has 57 ideas for reward & recognition that won't cost you a penny.
Post a thank you note on an employee's door.
Take time to explain to new employees the norms and culture of your department.
Give special assignments to people who show initiative.
Arrange for a team to present the results of its efforts to upper management.
Encourage and recognize staff who pursue continuing education.
Create and post an "Employee Honor Roll" in reception area.
Acknowledge individual achievements by using employee's name when preparing a status report
Make a thank-you card by hand.
Give employees an extra long lunch break.
Establish a place to display memos, posters, photos and so on, recognizing progress towards goals and thanking individual employees for their help
Click on the Read More link below to see the full list of 57 ideas.
Read full post
---
Posted by Insightlink on 10/09/12

9 Habits of Highly Engaged Managers
Based on our normative Employee Engagement database, there are a number of factors that have a powerful influence in building job satisfaction and engagement, including:
    The level of reward and recognition
    The opportunity to learn new skills and grow on the job
    The opportunity to make suggestions (which we see as an "empowerment" measure)
    To what degree their work is respected by their employer
    Satisfaction with the resources available to do their job
    Agreement that their job makes good use of their abilities and skills
    The effectiveness of communications within the organization
    Their opportunities for advancement
Click here to read the full article and learn the 9 habits that engaged managers exhibit to create positive cultures.
Read full post
---
Posted by Insightlink on 10/04/12

Is Having Fun at Work Important?
According to the 2012 Great New Zealand Employment Survey, yes it absolutely is! According to the survey, 50 per cent of employees list having "fun and working with great people" as the most important factor in their employment. We have found similar results here in the US in our Annual 4Cs Benchmark Survey.
Read full post
---
Posted by Insightlink on 10/01/12

The High Costs of Disengaged Employees
Much research into employee engagement has identified something referred to as the "Engagement-Profit Chain". Simply stated, engaged employees lead to higher levels of service, quality and productivity, which in turn leads to higher customer satisfaction, which results in increased business and higher levels of profit. The opposite is just as true. Disengaged employees pretty much guarantee lower levels of service to your customers and it's not a stretch to see how that will impact your competitiveness no matter what your industry. Let's take a look at some areas where improvements can have a significant impact on how engaged your employees are.
Read full post
---
Posted by Insightlink on 09/28/12

453,000 more jobs added in third year of recovery
This is much better news on the jobs front that we've been hearing for a while. In it's revised firgues, the BoL says that the U.S. ecomony added 386,000 more jobs that it's previous estimate. This means, of course, that the jobs picture over the year was not quite as bleak as we thought. It's also an important reminder that the monthly jobs number is actually just a rough estimate that maybe doesn't deserve all the fevered attantion that it gets.
Read full post
---
Posted by Insightlink on 09/12/12

Is It a Mistake to Pick an Employee of the Month?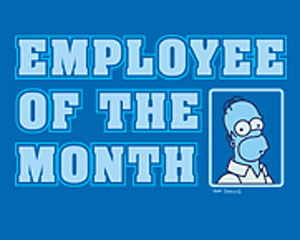 Here's an interesting article in today's small business section of the New York Times. Many companies both large and small use something like an 'Employee of the Month' award as a way to both reward good employees and motivate others. But do these programs really work as well as we think? Many management consultants are not so sure. In my personal experince I've seen them lead to resentment and anger among those never chosen as "teacher's pet" and the feeling that these "attaboy" awards are often handed to the office "suck-ups" rather than the folks who work hard and go the extra mile without constantly tooting their own horns. Part of that, of course, is simply due to bad management, but even when it's not out-and-out favoritism driving these programs, rewards like these which highlight some employees while ignoring the contributions of others may not be the best prescription for overall employee engagament. Time to re-think perhaps?
Read full post