Workplace Stress Surveys
"Americans are working longer and harder and work is the leading cause of stress for most adults."
What is Causing Stress in Your Workplace?
Whether it's workload, people or management issues, lack of work-life balance, lack of job security or financial problems, there is no question that stress at work is on the rise and the increase is taking a toll not only on workers, but also the organizations they work for. Excessive on the job stress is associated with higher levels of absenteeism, lowered productivity, disrupted operations, increases in workplace accidents, anxiety disorders and higher employee turnover. This, in turn, can lead to increases in medical costs, health insurance and legal costs as well as unanticipated worker's compensation payouts for employers. It has been estimated that workplace stress costs U.S. companies over $300 billion each year in direct and indirect costs.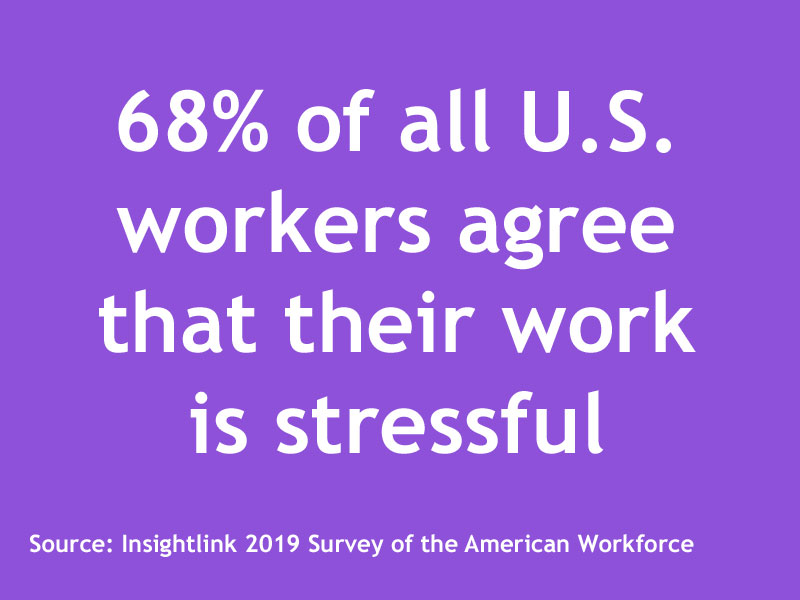 In our Annual Survey of the American Workforce, we found 68% of employees agreeing that their work was stressful. Other studies find similar results. A report by the
National Institute for Occupational Safety and Health
said that 25% consider their jobs as the number one source of stress in their lives and 26% stated that they were often or very "burned-out" at work.
How to Prevent Workplace Stress
First, identify the problem.
While we always include measurements of stress in our
4Cs Employee Survey
, sometimes a more comprehensive evaluation of organizational stressors is warranted. A focused survey that collects objective data and examines the reasons for and contributors to stress such as workload, assignment of tasks, work roles, interpersonal relationships, career concerns and physical workplace conditions can help uncover the root
causes of stress in your organization
.
Second, implement an action plan to address problem areas and build a healthy workplace culture.
We recommend following the general guidelines in our action planning workbook. Also, the
free NIOSH report
on stress at work has many excellent resources and suggestions on how to design and implement interventions.
To learn more about how we can design and implement an effective workplace stress survey for your organization contact us at
866-802-8095 x705
or by email at
information@insightlink.com
Our Clients Agree...
We have been very pleased with Insightlink's high level of quality of service. They have always been flexible and accommodating to our specific needs. At the National Association of Independent Schools, we have a very small research group; therefore relying on the kind of work that Insightlink can deliver for us is crucial. We consider them an extension of our own team. The quality of the reports and the analysis are consistently exceptional!


Amada Torres
National Association of Independent Schools


Read more testimonials