School districts are evolving. Many districts are learning from the business world. Some are even applying tried-and-true business practices to drive talent recruitment and retention.
Industry-leading businesses recognize the value of identifying talent and keeping their best employees happy. Meanwhile, school districts can do the same. They can use business talent recruitment and retention best practices. In doing so, school districts can connect with quality job candidates and add skilled professionals. Districts can also develop and maintain a steady talent pipeline and maximize employee engagement and satisfaction.
School district HR specialists can apply business talent recruitment and retention best practices to their everyday work. Now, let's look at 10 ways HR specialists can do just that.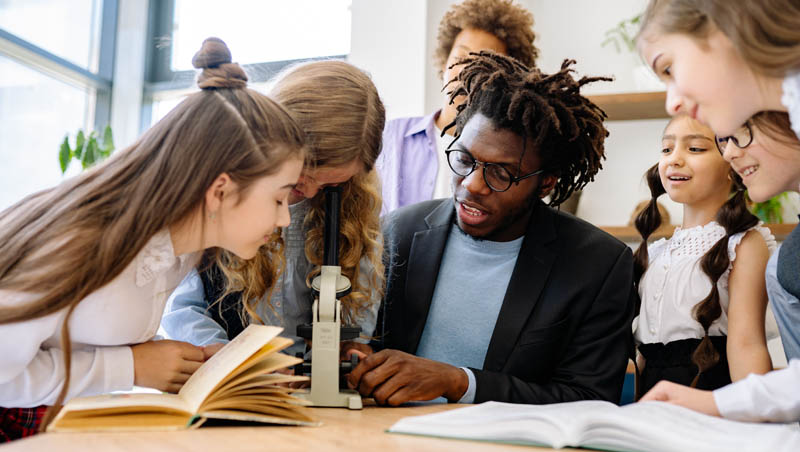 Photo by Yan Krukov from Pexels
1. Use HR Technology
Leverage video conferencing tools, chatbots, and other state-of-the-art HR technology. Start slow with technology investments. First, evaluate your HR budget. Then, consider what technologies are available, how you can use them, and how long it will take to implement them. If you invest in HR technology, ensure your entire team gets up to speed on it. From here, track the results of HR technology investments.
2. Craft Timely, Relevant, and Engaging Job Descriptions
Produce job descriptions that explain what your school district wants and what it has to offer. List the skills and qualifications required for someone who fills a school district role in your job description. Ensure your description explains the salary range and benefits provided with the position.
3. Promote School District Vacancies Across a Wide Range of Platforms
Use online job boards, virtual job fairs, and other digital platforms to share school district job openings. Leverage TikTok, YouTube, and other social media channels, too. And encourage educators and other school district personnel to share digital job postings with colleagues.
4. Make the Hiring Process Transparent
Explain what job candidates should expect throughout the hiring process for a school district job. Provide information about the steps of this process, who is involved in the process, and when you expect to fill a role. Moreover, encourage candidates to come forward if they have any concerns or questions. If a candidate requires assistance, verify he or she can quickly and easily reach out for help.
5. Streamline the Employee Onboarding Process
Establish a seamless employee onboarding process. Initially, evaluate your current onboarding process. Collect feedback from workers to gain insights into onboarding process strengths and weaknesses. In addition, ensure the employee onboarding process is easy to follow. The process should enable new hires to learn about your school district and meet with peers and superiors. It should also help new hires hit the ground running beginning on day one.
6. Foster Inclusion
Promote inclusion across your school district. To get started, build a diverse HR department. Also, communicate the value of inclusion to district personnel. Develop educational materials and learning programs focused on inclusion. Conduct employee surveys and questionnaires to learn how workers feel about your district's commitment to inclusion as well. And continue to make strides to foster inclusive work environments.
7. Offer Training Programs
Provide training programs for new hires and current personnel. New hires can join a training program that teaches them the ins and outs of a particular role. Meanwhile, current employees can leverage cultural awareness training and other educational programs to advance their existing skill sets or develop new skills. These employees can also enroll in secondary education and certification programs. If possible, offer incentives to employees who sign up for training programs.
8. Launch Employee Referral Programs
Utilize an employee referral program that rewards school district personnel if they refer someone they know for a job. Offer financial incentives or other employee referral program perks. Moreover, establish a simple process for employee referrals. Let workers submit their referrals online via computer or mobile device. If a referral meets a district's criteria, ensure the worker receives their reward promptly.
9. Partner with Colleges and Universities
Get in touch with colleges and universities. Establish partnerships with these higher education institutions and encourage them to get in touch if they have recent graduates or alumni who may be able to fill school district roles. Maintain regular communication with colleges and universities as well.
10. Prioritize Ongoing Improvement
Establish talent recruitment and retention strategies and goals. Track time-to-fill, time-to-hire, and other HR metrics. Conduct regular assessments to find out if your school district is hitting the mark. If changes are needed to talent recruitment and retention strategies and goals, implement them right away.
Demand for educators is fierce, and it shows no signs of slowing down any time soon. HR specialists must plan accordingly. They can now use best practices for talent recruitment and retention. By doing so, HR specialists can help school districts connect with outstanding job candidates, add talent, and foster long-lasting employee relationships.