Whenever a workplace presents potential environmental risks to employees, employers are required by law to offer personal protective equipment (PPE). This equipment is made specifically to protect workers from direct harm and any other health and safety risks on the job, but it could also help to reduce workers' comp premiums, the cost of accidents, and employee downtime caused by preventable injuries. Here are some of the most common types of PPE, as well as their purpose and importance: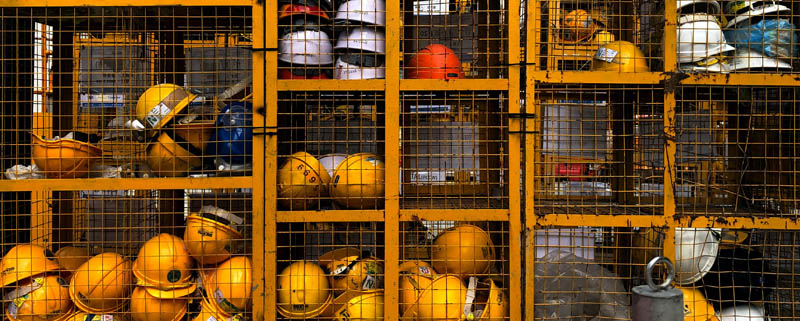 Photo by Pop & Zebra on Unsplash
Head protection
Head protection equipment, most commonly hard hats, is specially designed to protect the heads of workers from any falling objects and materials that could penetrate or impact individuals otherwise. Helmets are also used to protect employees if they use vehicles that are likely to throw them around suddenly and violently. While the most basic head protection only covers the head, helmets and hard hats can easily be adjusted depending on any unique workplace requirements. For instance, this gear could be equipped with additional neck protection for increased safety.
Eye protection
In addition to head protection, face and eye protection is used for keeping the entire facial area safe from debris, small particles, flying objects, and even splashes from dangerous chemicals. Protective glasses, goggles, and full-face shields are the most common types of equipment used for this purpose. Although eye protection is
mandated by law
when it comes to workplaces such as laboratories, construction sites, production lines, and similar areas of work, even certain offices and other types of businesses should consider eye protection if there is a danger of injury in the work area.
Hearing protection
If the workplace experiences extreme amounts of loud noise exposure on a regular basis, hearing protection should always be provided to employees. Even though foam earplugs are preferred by many companies due to their comfort and practicality, professionals advise the use of earmuffs that cover the entire surface of the ear, especially when it comes to protection from higher noise levels. Earmuffs are more efficient at minimizing high-frequency noises, which might be particularly important for electronics, metal, and wood processing industries. In case workers are only exposed to low-frequency noises, however, earplugs will do a satisfactory job as well.
Foot protection
Although often overlooked, feet protection is incredibly important as well. For example,
durable work boots
should be used in a number of industries, from mines and factories to emergency services. This footwear is equipped with hard-toe protection, protective soles, and thick-layer construction, among other features, all of which can help to avoid harsh temperature exposure, laceration, blunt force trauma, and other types of injuries. That is why any field that often comes with hazardous work conditions should also consider the regular use of protective footwear.
Respiratory protection
Proper respiratory protection is critical for maintaining the health of the lungs and the rest of the respiratory system, especially when working on sites with toxic substances or other hazardous material that could be inhaled. In most instances, this means using specifically designed masks with filters that can protect from dust, paint spray, fumes, pesticides, and other dangerous contaminants. However, certain workplaces may also require full breathing systems that are connected to oxygen tanks, depending on how hazardous the environment truly is. In any case, it's vital to test respiratory equipment regularly, both for function and for proper use.
Personal protective equipment isn't only required by law, but it is also a moral obligation for employers to provide for their workers. Wherever there is potential harm, there is also a risk to the
health and safety
of employees, which is why PPE is so crucial.