Each year we conduct our Survey of the American Workforce. It's what we use as the basis for our extensive normative database and how we benchmark scores in our 4Cs Employee Survey. A recent article posted by John Hall on LinkedIN highlights one of the key findings in the survey results having to do with employee loyalty and why employees really leave jobs.
It's a myth (and one that never seems to die) that employees leave their jobs primarly because of bad managers. Just try a Google search on "employees don't leave jobs, they leave managers" and you'll find dozens of articles and blog posts touting this tired old cliche. The problem is that the claim is simply not supported by the data. It's just a lazy way to explain away high turnover rates without actually trying to solve the problem. That's not to say that "some" people don't leave jobs because of bad management or horrible bosses. Everyone has heard stories about them and most of us have probably had at least one experience in our careers working for a monster. But "horrible boss" anecdotes are not reliable data and the truth is, while people leave jobs for many reasons, bad management ranks pretty low on the list.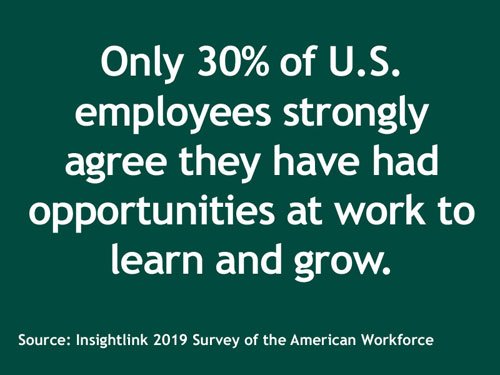 The truth? The actual, verifiable number one reason people give for leaving jobs is to advance their careers. Better jobs, more responsibility, greater growth and learning opportunities all factor into the equation, but it's desire for career advancement that is the primary driver of job change.
We've been collecting employee exit survey data for decades and year after year, this is the top reason. Other research confirms what we've long known: lack of opportunities for advancement consistently comes out on top.
Other reasons include dissatisfaction with direction of senior leadership, dissatisfaction with overall culture, lack of challenge in work, unhappiness with compensation or benefits and a lack of recognition. But psycho boss does not make the top ten!
We see it also in our 4Cs survey benchmark data. This year, only 30% of employees in the U.S. agree strongly that they have opportunities to learn and grow in their position. Not only does that contribute to lack of employee engagement, but it's likely the biggest contributer to your turnover rate. What does this mean? It means that career goal conversations are critical. Even when a position may offer little in the way of advancement opportunities, discussing options for training and/or personal skills development within the job can lead to greater loyalty and engagement.
if you liked this article, please consider following us on LinkedIn. If you'd like more information on the 4Cs survey or our benchmark data, please email us at information@insightlink.com