We often engage in discussions about what employers expect from employees. However, there is little deliberation about what employees anticipate in the workplace. Speaking of their expectations, recognition of their relentless contributions is a simple expectation they have. It is essential that organizations deliver on this basic expectancy. By doing so, they can inspire employees to align their interests with organizational objectives in the most effective manner.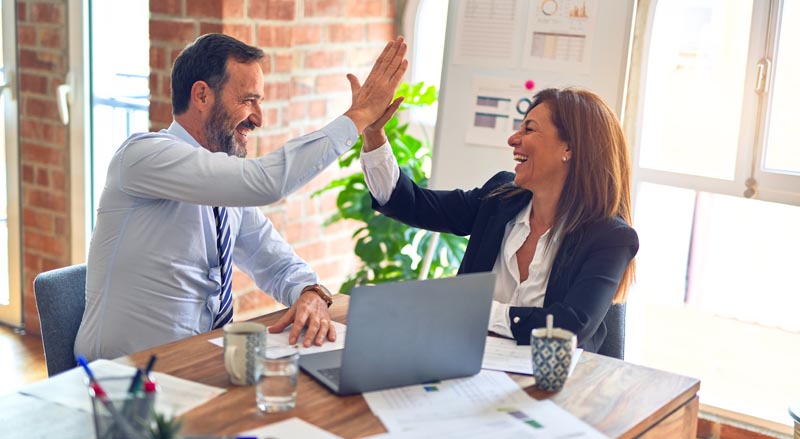 Being a business leader, you look to evolve various strategies to keep your employees motivated. You also look to evolve progressive strategies to promote satisfaction among them. Unless they have the right motivation, they will not be able to perform beyond the ordinary. This is where the significance of employee recognition comes into the picture. However, the benefits of employee recognition go far beyond boosting the morale of employees. There are some incredible business benefits of offering recognition to employees that you ought to know. To shed light on these benefits, this blog delves deep into the correlation between employee recognition and business advancement. The worthwhile merits of employee recognition are listed below.
Advantages of employee recognition for businesses
Enhanced employee engagement
Being a business leader, you already know how crucial employee engagement is for any organization. From productivity to profitability, employee engagement plays a determining role in critical aspects of business functioning. As per Gallup, engaged workforces can increase business profitability by 22 percent. This is the reason why employee engagement has become a buzzword in corporate America.
Businesses need to work on various factors to inspire active engagement among employees. The most crucial determinants of engagement include employee morale, satisfaction, and happiness. Moreover, engagement levels depend on the loyalty and allegiance employees have to their organization. A solid system of rewards and recognition can cater to all these prerequisites of engagement in a worthwhile way.
When employees get appreciated for their efforts, it makes them feel happy and satisfied. To substantiate, as cited by HuffPost, 86 percent of employees report that appreciation drives happiness in the workplace. Moreover, they find the overwhelming motivation to exhibit even greater engagement in the future. As cited by Hubspot, 69 percent of employees assert that they will work much harder if appreciated better. Also, recognition of effort promotes greater allegiance among employees. Having said that, employee recognition is the key to
fostering active employee engagement
in multifaceted ways.
Greater sense of belonging among employees
When superiors appreciate and reward employees, it encourages a greater sense of belonging among the latter. This sense of belonging is critical to their productivity and morale. In fact, as a business leader, you ought to know the business benefits of inspiring a sense of belonging among your employees. As per
Deloitte
, a greater sense of belonging can inspire a 56 percent increase in job performance. Furthermore, it can lead to a 50 percent decline in employee attrition rates. Were you aware of these benefits already?
As you can see, creating a sense of belonging can be pivotal to organizational success. But first, it is essential to inspire this sense of belonging among employees. For that, they should feel valued. They should have the positive impression that their leaders and managers appreciate their hard work and recognize their incessant contributions to the organization. Besides, this recognition should not be limited to performance reviews. Rewards and recognition should be a part of the natural work environment.
Setting a performance benchmark in the workplace
When employees see their co-workers winning rewards and accolades for their performance, they will feel motivated. It will set a benchmark for all employees. They will know what kind of productivity and diligence is expected from them to be eligible for winning rewards in the workplace. Having said that, recognition in the workplace will be a great motivator for achievers as well as others.

Employees will be able to align their goals with the system of recognition in the workplace. They will see recognition and rewards adding immense value to their career growth prospects. They would feel the natural urge to win accolades from their superiors to enhance their chances of career advancement. Hence, employees will be willing to put in additional effort and raise the bar of their productivity to match the set benchmark.
Empowered self-belief in employees
As an entrepreneur, no one understands the worth of self-belief like you do. With self-belief, people can even move mountains! The leader in you will always want to have a flamboyant team. You would want that your employees are always brimming with confidence, optimism, and self-belief. Having said that, you have a massive role to play in boosting their confidence.
"Believe you can, and you're halfway there."
- Theodore Roosevelt
When employees receive recognition, they begin to believe in their abilities. They are able to associate self-worth with their potential, and this brings great optimism to their personalities. How would you feel when someone pats your back and tells you that you are doing great? Of course, you will feel overwhelming empowerment gushing through your veins! Similarly, when you back your employees and give credit where due, it will fill them with self-worth and positivity.
Furthermore, when employees feel empowered, they will back their ideas, creative insights, and innovation. They will be willing to go beyond their comfort zone and offer more to the organization. Every time they receive appreciation from their superiors, it will add new dimensions of self-belief and empowerment in them. Would you not love to develop such flamboyance in your team?
Creation of a positive company culture
Do you know that strong and progressive cultures can make businesses four times more profitable? Are you investing enough in creating a high-performing work environment within your organization? Cordial workplace relationships characterize positive work environments. It is crucial that colleagues share working relationships and have mutual trust among them. It is also vital that workers value and appreciate each other's skills and commitment. You have to ensure a
conducive workplace environment
to inspire the best abilities in your employees.
The virtues of recognition and appreciation will add positive dimensions to the workplace. They will facilitate positive relationships and trust-building between co-workers. In fact, when you extend appreciation to your employees, your relationships with them will change too for the better. Furthermore, the virtues of recognition will promote healthy and fair competition in the workplace. All this will add to the culture of the organization and its success in the ultimate sense. With the inculcation of rewards and recognition, you can create a culture that can unlock new horizons of business success.
Significant decrease in employee turnover
Improving employee retention and bringing down employee turnover are pivotal concerns for all organizations. Organizations want to retain their top talents for the longest duration and draw value from them to attain higher business success. Also, no organization would like to bear the huge costs of high employee turnover. As per Forbes, turnover costs can be as high as 33 percent of an employee's annual wages.
To add, Gallup provides a much deeper insight into turnover costs and how they affect a business. It states that an organization with 100 workers and average remuneration of $50000 may end up incurring losses of up to $2.6 million per year due to turnover. You do not want to endure all these unnecessary losses! Hence, you need to work on worthwhile strategies to retain your employees, and recognition is the key to it.

Do you think your employees will stay for a long time if they receive no recognition for their effort? As per OfficeTeam, 66 percent of employees will consider leaving their jobs in the absence of any form of appreciation from their managers. So, as you can see, recognition is paramount for the majority of employees and their decision to stay with an organization. Without a culture of appreciation, you cannot retain your best talents for a long time!
Better prospects of attracting top-notch talent
Attracting new talent is as crucial as retaining your top-performing employees. In contemporary times, businesses are laying greater emphasis on attracting millennial and Gen Z workers. Millennials and Gen Z workers come with better adaptability, are far more tech-savvy, and embrace new challenges. Having said that, they can be valuable additions to a workforce.
However, to have the best chance at attracting them, you need to create a positive and progressive workplace culture. They are much happier to work for an organization that has a well-defined structure of rewards and recognition. To validate, a
survey
concluded that almost 80 percent of millennial and Gen Z employees view recognition as the primary factor for committing loyalty to an organization. Given that, recognition is the key to creating an appealing workplace culture. Such a vibrant culture will gravitate to the top millennial and Gen Z professionals. They would love to be a part of such workplace cultures.
To conclude, appreciation drives happiness and motivation in employees. Furthermore, a system of rewards and recognition adds various merits to business success. As a business leader, you have to commit yourself to incorporate strategies that bring out the best in your employees. Among all these strategies, recognition will always be among the most worthwhile measures. Irrespective of how much the corporate culture changes in the future, employee recognition will always remain essential.