Yahoo Bans Working From Home?
---
Posted by Insightlink on 02/25/13
Richard Branson Weighs In
I have to admit I was completely surprised at Yahoo CEO Marissa Mayer's recent announcement that the company will ban teleworking for most of its employees. It seems like a backwards move for a company struggling to maintain its mojo, which I doubt will do anything to improve morale at the company. Mayer has come in for much criticism for the move and today Virgin Group founder Richard Branson weighed in on the decision too with the following tweet: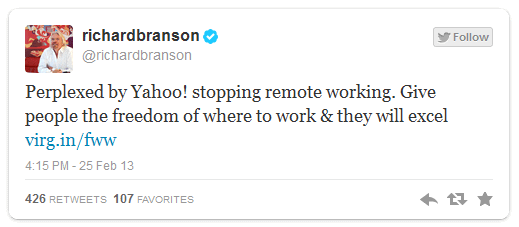 We agree with Branson on this one. Study after study has shown that giving workers more flexibility improves productivity, loyalty and engagement. What do you think?