There is no doubt that these are challenging times. With only essential businesses open for face-to-face transactions during the pandemic, other businesses have closed or are operating on a remote basis.
Those working remotely must reimagine their positions and adjust to the lack of immediate interaction, direction, and oversight that is readily available in a physical workspace. Employees used to an informal, collaborative office environment must pivot 180 degrees and function individually while mastering the various technologies that allow them to communicate with coworkers and clients.

How can human resources professionals and supervisors help their team adjust on the fly? First, they can think of this as an opportunity to create a new normal, where in the world post-coronavirus there remains the option of working remotely effectively and efficiently, perhaps reducing the need for permanent physical office space and its attendant costs, and increasing reliance on emerging technologies. Next, they can implement these six tips to aid in the transition from on-site operations to remote operations.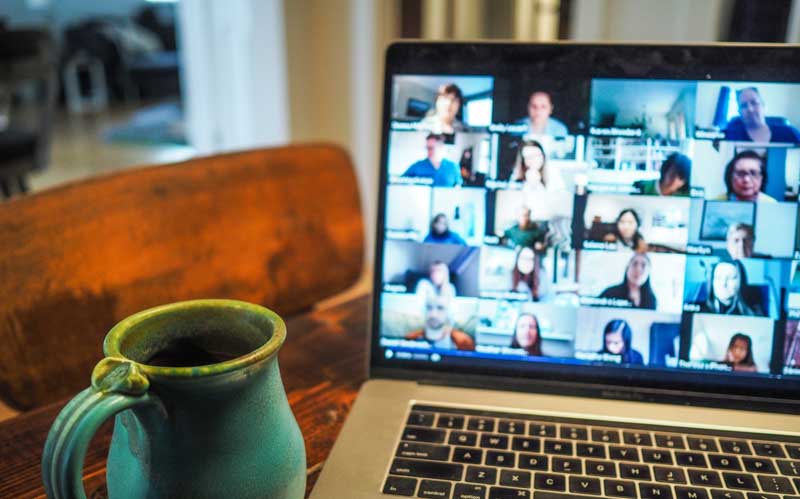 All images from Unsplash
1. Support Newly Remote Workers
Your employees are probably anxious about COVID-19 as well as how they are going to function in their job remotely, if they are new to remote work. You can help.
You Must Provide Guidance and Training in the Technology You Expect Employees to Use
Working from home requires the use of technology that may be unfamiliar with many of your employees. However, not everyone is tech-savvy or is comfortable seeking out information about how to use technology on the web. Many workers "don't know what they don't know" and so don't know where to start.

You know where to start. Make a list of the technology you plan to use to do business remotely. If your business deals with information, such as legal or financial services, your list may be rather short. A remote information services business may only need everyone to have a computer with access to the internet, training in the use of Google Drive or your secure server and the password, and training in whichever remote communication technology you plan to rely on. These may include any or all of the following:
Email
Instant Message
Skype
Zoom
GoToMeeting
Informal, personal communication like text or Facetime or a phone call
If your business deals with the sale or distribution of goods, you may also have specialized software that provides your business with the ability to drop ship goods to consumers direct from manufacturers..

Regardless of the type of technology you expect your team to use, you must provide training so that the procedures you establish don't fail because of lack of knowledge or experience with the technology.
You Should Check in with Employees Individually
This is as much for inquiring as to how they are functioning personally as for making sure they understand everything that is expected of them. If they are accustomed to a collaborative workspace, working alone does not provide the same energy and they may feel isolated.

Help your employees adjust by communicating regularly with them as individuals. This will make them feel valued as a person and an employee, and help keep them connected to the team and personally invested in the work.
2. Establish Procedures for Communicating Efficiently
Whichever of the aforementioned technologies you choose to use to communicate, establish which will be used for what function. This is crucial to efficiency.

For example, you may require workers who are "on" to have Skype open at all times so that supervisors can reach them readily, and workers can communicate with each other readily. You might also require that communications with clients happen via email only, or if a phone call is required, to follow up with an email summarizing the call. If necessary a supervisor or a colleague can be blind-copied so that everyone is on the same page.

For group meetings, you might establish a day or days and times that everyone must be available for a group virtual meeting, whether through Zoom, GoToMeeting, or your own secure videoconferencing system. For urgent messages, you might use Skype. For less urgent and more involved communications, you might use email and establish a 16- or 24-hour response period.

This is all up to you, but establish something in writing so your employees know what you expect from them.
3. Be Flexible and Ask for Input from Employees
Many non-essential businesses were operating on-site one day, then operating remotely the next day, with no time to prepare or transition. That has to be okay. Accept that moving to operating entirely remotely will have its growing pains.

Supervisors can do their part by being as clear as possible about expectations. Employees should be encouraged to provide input as to how those expectations are playing out in terms of ease of use and effectiveness. Everyone should be made to feel as if they are in the same boat - because they are! Function as best you can and adjust as you see fit as the procedures and expectations you lay out play out over time.
4. Be Prepared to Supervise Some Employees More Than Others
Some employees are self-motivated and need little direction or supervision. Others require more input. In an office environment, it is a simple matter to notice employees of the second type and provide them with more attention. But when you don't have eyes on your employees it is difficult to determine who needs attention.

Think about it and experiment with providing direction and feedback to the employees who need it most. You will soon learn who works best with less attention, and who needs more.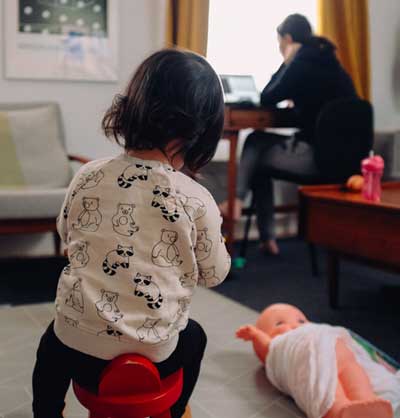 5. Expect that there will be Distractions Working from Home
Children are home from school. Everyone except essential workers is working from home or unemployed. As a result, all of your employees except those who are living alone will have to work for you from a home environment that will be rife with distractions.

Accept that. Of course you want to encourage your employees to find a quiet place at home to work, but that may not be possible for a conventional eight-hour stretch. Perhaps experiment with 2-hour work windows with an hour break, or working 7am to 3pm with a lunch hour off, or whatever your employees need to deal with their family situation. Be prepared to work it out with each employee individually, as everyone's home situation is different.
6. Have Periodic Team VideoConferences
This is crucial. Even if you have no collaborative work to do, schedule a team meeting where everyone can see everyone else's face. Most people are self-isolating so they will look forward to cleaning up and dressing in something other than pajamas or sweatpants. Even if the videoconference is just a happy hour meeting, it will help sustain the bond your employees have with one another as well as their emotional investment in the success of your business.

Such meetings could be once a week at the same time every week, or whenever you think it is necessary. However, do not neglect this aspect of supervising remote workers. Employees may be trained to function at a distance, but you do not want them to start to feel distanced. Simply checking in via video will go a long way to keeping everyone feeling connected to you, each other, and the work.

Employ these tips to maximize productivity and worker satisfaction during the current health crisis. When it is over, you will have learned how your business can function remotely, and you have the choice to continue to employ whichever aspects of working remotely save money and improve productivity.



About the Author
Veronica Baxter is a blogger and legal assistant living and working in the great city of Philadelphia. She frequently works with Chad Boonswang, Esq., a busy life insurance beneficiary attorney.