Whether you manage a team of one or one hundred, the role of leader is a challenging one, with its own unique trials and triumphs. From dealing with internal conflicts to inspiring motivation to steering staff through tough times, these books provide vital advice and insight into how to lead with confidence, resilience, and intent.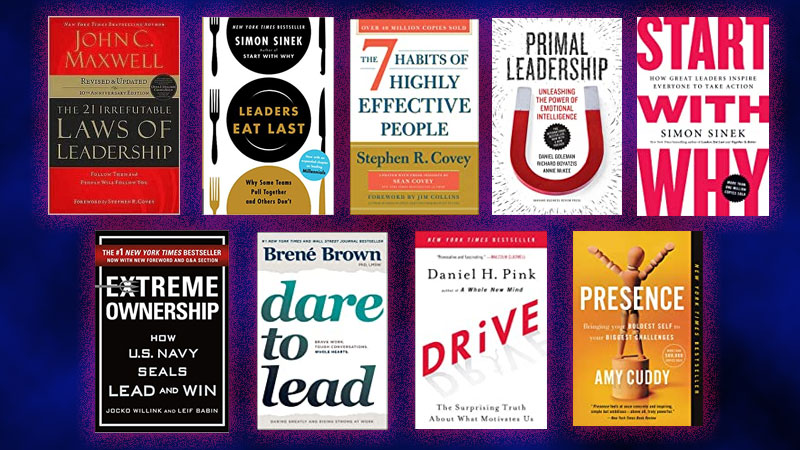 1. 21 Irrefutable Leadership Laws – By John Maxwell
An expert for decades in his field, John Maxwell offers advice from the front-line, suggesting ways to manage success and adversity. Maxwell breaks down good leadership into a set of laws (for example, The Law of Respect), each backed up with examples from his own personal experience and practical suggestions on how to implement them in your own team.
2. Presence – Bringing Your Boldest Self To Your Biggest Challenges – By Amy Cuddy
In this best-selling book, Amy Cuddy aims to help improve leaders' self-belief and confidence. Cuddy discusses how to become aware of negative body language and self-talk so that adjustments can be made, thus revealing the innate power of presence and how this can be used to improve every area of life and engender empowerment. Incorporating these techniques into your role as leader will revitalize your management style.
3. Seven Habits Of Highly Effective People – By Stephen Covey
This book offers the reader a concise guide on how to adopt the seven leadership principles that will lead to interdependence, a state allowing for optimum growth, success and efficiency.
Maxine Bodkin, writer at
UKWritings
and
Writing Populist
, says, 'with its straightforward manifesto of not how only how to achieve success, but what this actually means on a personal level, this book is essential for anyone looking to improve themselves, whether in terms of personal life or career.'
4. Extreme Ownership – By Jocko Willink and Leif Babin
A masterclass on how to lead well under pressure, and the importance of taking personal responsibility, the bestseller 'Extreme Pressure' by former Navy SEALS Willink and Babin is packed full of advice on how to get the most out of a team and succeed in any circumstances. The book is organised into topics, detailing the fundaments behind each and how to motivate a team to be best placed to win in every scenario.
5. Leaders Eat Last – By Simon Sinek
Simon Sinek's book is an inspirational how-to guide for leading teams of all shapes and sizes. As its title suggests, 'Leaders Eat Last,' suggests that leaders should be prepared to make sacrifices for their team on the road to success; motivational and fascinating, this book uses biology as the base for understanding how to create and lead an unstoppable unit.
6. Dare To Lead – By Brene Brown
Brene Brown is a household name in the world of self-help books, and for very good reason: with her conversational tone, honesty and straight-to-the-point advice, she is able to analyse the factors behind our behaviour and challenge them. In 'Dare to Lead' Brene discusses courage, potential, and commitment, and how these relate to the leadership role.
'Wide ranging in scope, covering innovation, and empathy as well as the insidious effects of shame culture, Brown's book is essential reading,' says Bob Freeman, leadership expert at
Assignment Help
and
Studydemic
.
7. Primal Leadership – By Daniel Goleman, Richard Boyatzis and Annie McKee
The phrase 'emotional intelligence' first appeared in this hugely influential book that discusses the characteristics of great leaders and how these traits motivate and inspire a team to succeed. The authors look at the four key things a leader should foster in order to flourish: self-awareness, emotional self-management, social awareness and relationship management.
8. Start With Why – By Simon Sinek
By understanding the fundamental reasons behind, for example, the existence of a business, or for the way in which a customer behaves, leaders can harness huge powers of motivation and awareness. Building on a widely regarded TED talk on the same subject, Sinek offers insight and advice from the challenges he has faced as a leader.
9. Drive – By Daniel H Pink
'Drive' is a must read for anyone in a leadership role that seeks to understand how to motivate the individual members of their team to get the best out of every unique personality. The book examines the importance of self-direction, as well as the elements of autonomy, mastery and purpose - and how inspiring these in your staff will elicit seismic change.
Leadership In Practice
The books here have earned their place on this list due to their capacity for practical application: as well as offering insightful management theory, they each serve as real-world guides to adopting new approaches and strategies to help you achieve, and surpass your leadership goals.