4Cs Blog: Happy Employees = Happy Customers
---
Posted by Insightlink on 06/10/13

An Employee Morale Survey Can Help Your Business Succeed
Knowing When You Need a Morale Survey
If you feel that your employees might be feeling less than happy about their jobs, it may be time to take an employee morale survey. Morale surveys help you discover the truth about how your employees feel about their jobs and working conditions. Just because you think that everything is okay does not make it true – the fact is that your workers could be quite unhappy with various aspects of your operating procedures. Taking a survey gives them a chance to express their true feelings without fear of losing their jobs.
Read full post
---
Posted by Insightlink on 06/05/13

Employee Satisfaction Survey Questions Uncover Honest Answers
Employee satisfaction surveys are a fast and easy way for employers to gain valuable insight into the minds of their employees. These surveys are designed to get honest answers. They make employees feel safe speaking their minds.
The employee satisfaction survey questions will reveal everything you need to know about the satisfaction of your employees. If they are not happy on the job, these surveys will tell you why – and you can start fixing the problems.
Any successful business owner will tell you that they are only successful because their employees are happy. Unhappy, unsatisfied employees lead to reduced productivity. Our surveys will help you uncover problem areas, such as pay rates and working environments, so you can start making necessary changes.
When your employees are satisfied with their jobs, they will be more productive, helping to make your business more successful. Contact us today to learn more about our satisfaction surveys.
Read full post
---
Posted by Insightlink on 06/03/13

Employee Surveys Provide Answers to Difficult Questions
As an employer, you must make sure that your employees are happy with their jobs.
However, simply walking up to them and asking them is not likely to give you honest results. Employees are not going to tell the person that signs their paychecks that they are unhappy. The best way to get accurate, honest answers is through the use of employee surveys. These surveys offer various questions to employees pertaining to various aspects of your business. These surveys will discover whether your employees are happy and satisfied – or unhappy and disgruntled.
Your workers are a vital part of the success of your business. Without them, you will be left doing everything on your own. You need to keep your employees happy to ensure that they stay with you through thick and thin, through the good and the bad. Our surveys can help you find both the strengths and weaknesses of your overall business operation.
Contact us today to learn more and start working on keeping your employees happy.
Read full post
---
Posted by Insightlink on 06/03/13

An Employee Satisfaction Survey Report Gives You Insight
Keeping your employees satisfied is part of running a successful business. When your employees are not happy, they are not productive. You may find that you have a higher turnoverrate due to employee dissatisfaction. That is why you should take the time to give your employees a survey every few months. This will give you access to their anonymous opinions about your business and its operation. It will allow you to see areas where you may need to make changes to ensure the overall satisfaction of your employees.
Here at Insightlink Communications, we offer various surveys that you can give your employees. An employee satisfaction survey report will tell you everything you need to know about how your workers are feeling. With this knowledge, you can do whatever is necessary to boost employee morale and make their working environment better. You will never know unless you ask – so, let us help you ask with one of our insightful surveys.
Read full post
---
Posted by Insightlink on 02/25/13

Yahoo Bans Working From Home?
Richard Branson Weighs In
I have to admit I was completely surprised at Yahoo CEO Marissa Mayer's recent announcement that the company will ban teleworking for most of its employees. It seems like a backwards move for a company struggling to maintain its mojo, which I doubt will do anything to improve morale at the company. Mayer has come in for much criticism for the move and today Virgin Group founder Richard Branson weighed in on the decision too with the following tweet: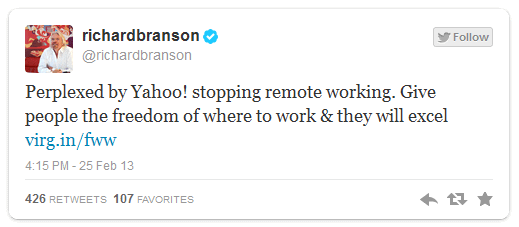 We agree with Branson on this one. Study after study has shown that giving workers more flexibility improves productivity, loyalty and engagement. What do you think?
Read full post
---
Posted by Insightlink on 01/15/13

HR Priorities for the New Year in 2013
What are the most important goals for your oranization in the coming year? The folks over at Ceridian have an interesting infographic giving some answers to this question. The following is a summary of what they found:
2013 Priorities
Here's what the numbers say...
32% say customer focused initiatives
28% say employee engagement
16% say containing health care costs
13% say managing workforce productivty
10% say regulatory compliance
Top 5 Challenges
Do you agree with this list?
1. Attracting technical talent
2. Controlling the company brand
3. Communication with applicants
4. Keeping employees engaged
5. Obtaining job candidate referrals
Top 5 Business Risks

1. Loss of customers
2. Talent/Skills shortages
3. Reputational risk
4. Currencey fluctuations
5. Changing legislation
It's no sup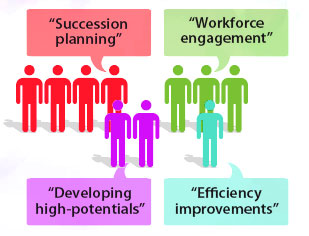 rise that employee engagagement and the risk of talent shortages are high on all these lists. 52% of U.S. employers are having difficulty filling positions in spite of an unemployment rate of close to 8%. Since talented, engaged employees are vital to the success of any customer focused business it's easy to understand where these numbers are coming from. Among other suggestions for achieving 2013 goals, Ceridian recommends outsourcing non-core activities and using workforce analytics ans part of a multi-year consumer-directed strategy.
An annual employee enagement survey and well-desiged action plan should be part of that process. Many employers think an employee engagement strategy is about doing what's needed for employees, but it's really about doing the things needed to build strong, long-lasting customer relationships. Because without loyal customers you won't have employees. That should be your main resolution for 2013.
Read full post