How to Show Employee Loyalty?
---
Posted by Insightlink on 06/13/13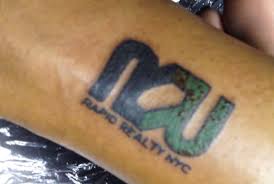 This may be the ultimate expression of employee committment and loyalty, although I'm not sure it's for everyone. The owner of a real estate company in New York is giving its 800 employees a unique loyalty incentive – a permanent 15% raise in exchange for getting a tattoo of the company logo. The owner got the idea when one of his employees voluntarily had the complay logo tattooed on his arm. Thinking this was "cool" Anthony Lolli decided to offer the rest of his employees a straight 15% raise if they also had the company logo tattooed on their bodies in any size (or place) that they chose. So far 40 people have taken him up on the offer. Would you?