In corporate, small business, or macro business, a business is defined by its workforce, representing the investment of this business. Like a person, a business has needs too. So when it comes to a work environment, employers often forget about the how and why, what drives people to give and provide. Taking a closer look at what constitutes an engaging work environment, we delve into the mindset of an employee and explore how technology impacts employee satisfaction.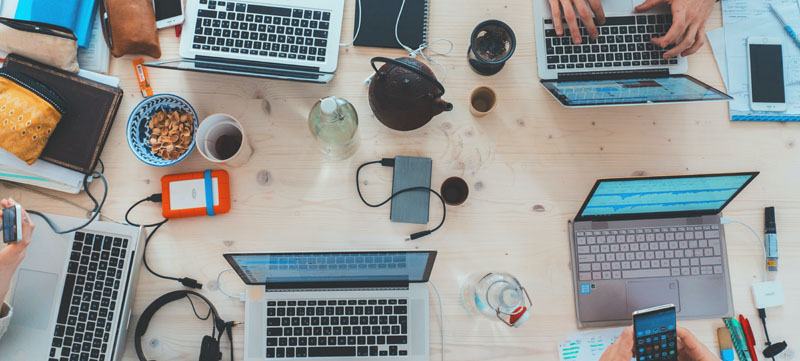 Photo by Marvin Meyer on Unsplash
Importance of Employee Satisfaction in the Workplace
Technology's role in creating an engaging work environment improves the work environment through convenience. Innovative technology in workplaces rapidly increases productivity and efficiency. What was once manual and time-consuming is replaced with digital tools for quicker results.
The digital shift aids employees in focusing on more important tasks that generate revenue, as simple tasks are left to technology-leveraging software. This lessens mistakes and improves the accuracy of departmental functions. However, when introducing electronic devices, a major factor to consider is charging and power supply.
Supporting Employee Development and Learning
For an employee to feel productive, they must feel capable in their work field; professional development broadens the horizon of an employee and promotes confidence. This means that employers should invest in the developmental learning of employees to enhance performance within their current role or to acquire the skills to perform in a new role.
Supporting their career and helping them achieve higher status contributes more to the workplace and boosts morale, productivity, and satisfaction. However, it is important to distinguish between training and professional development to foster a progressive culture of ongoing growth in the workplace. Training pertains to the current occupation, whereas professional development focuses on the employee's ability to adapt to a newer position or changes.
Increasing Efficiency and Productivity
Enhancing Communication and Collaboration
Improving Employee Engagement
The key to a thriving business is a mixture of all elements, humanistic, managerial, and technical, while one supports the other; the culture of the work environment and its stability rests in good hands.