With recent earthquakes in Iran and Turkey filling the news, it's no surprise that individuals and companies are looking to improve emergency preparedness. The average American spends a third of their day during the week at their places of employment. However, according to a
recent survey on emergency preparedness
, over 33% of respondents said they were unsure about emergency plans related to specific incidents.
Emergency preparedness is essential to ensure the safety of employees, minimize the increased risk of damage to persons and property, and ensure that businesses can be back up and running as quickly as possible.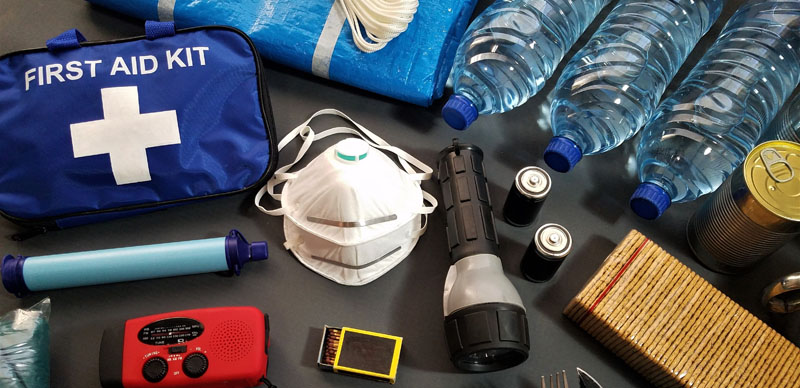 For a plan to be successful, it is essential that employers lay out step-by-step what the processes will be should a disaster occur to ensure their employees understand and know what to do. But what does a survival plan for an earthquake entail? We have compiled a list of five steps to ensure your plan is solid, you have the proper supplies, and your employees will know how to follow it.
Create a team
Depending on your company's size, you want to select a few people to represent each department and a few from upper management to support the process. These individuals must be involved in the planning process and be the points of contact in an emergency.
Assess risks
It is essential to research what risks apply to your location if an earthquake occurs. For example, some places near the ocean have a higher risk of tsunamis due to earthquakes. That would be another element you would need to consider. In addition, the physical buildings and type of business will bring about different risks. Walking through with a building manager or someone with specific knowledge of risks will help with creating a list of risks that will be addressed during your planning process.
Acquire emergency preparedness supplies
Employers must supply employees with items they need in case of an earthquake. Many include items that fit into a
simple backpack
that employees can quickly grab as they exit the building post-earthquake. Essential items should consist of the following:
Ready-to-eat, shelf-stable food
Water
A flashlight and extra batteries
A small first-aid kit
A copy of the emergency preparedness plan
Respirator masks to protect against dust and gas leaks
Encourage employees to personalize them by adding personal toiletry items, medications, and a change of clothes with comfortable shoes.
Develop a plan that incorporates proper training
The plan must strive to cover all possible scenarios that may come into play if an earthquake occurs.
Start by identifying safe places to go during the earthquake. Some of the safest places include under sturdy furniture, against an inside wall, away from glass and heavy furniture that can fall over or in an open area outside, and away from dangers like power lines, buildings, overpasses, and trees.
The next step is to create a plan for after the shaking has subsided. A plan must include exit procedures and rendezvous points. If heavy equipment or gas and water lines need to be turned off, incorporate this into your plan.
Practice, adapt, and improve
Ensure you cover emergency preparedness with each new hire and conduct earthquake drills twice yearly to ensure each team member knows the procedure.
After each drill, ask for feedback from your employees. Employees have first-hand knowledge of their workstations and risks which will help iron out any issues and improve and enhance employee safety.
Create an effective earthquake preparedness plan today to protect your employees!
Emergency preparedness is an essential element for any business. Follow this outline for an effective plan.
Create a trustworthy team that will help throughout the process and will be reliable if an earthquake is to occur.
Include each employee when you assess risks because they may see things you are unaware of and help with the process.
Invest in emergency preparedness supplies. Most of them last for a long time and are worth the investment to keep your employees safe.
Create training materials along with your plan, and don't be afraid to modify your plan and training process as you receive feedback from drills.
Having a well-thought-out plan that is up to date and practiced throughout the year will give you and your employees the piece of mind and security they need to feel like they will be taken care of if an earthquake is to occur.