The purpose of a business meeting is to make an impression, and so should your business attire. These meetings are an essential part of a company, and how you present yourself as a professional in these meetings shows a contribution to the company's success.
Choosing the right outfit for a business meeting is as important as body language. A harmonious blend of both makes a difference in impressing others.
Research by Prof. Lakshmanan and Dr. Nagarathinam
shows that the candidate's appearance can convey a strong sense of trustworthiness, self-confidence, dependability, and professionalism.
Moreover, Yolandie Hamilton, a professional stylist, teaches her clients to choose
keywords describing how they want to feel and look
in the business meeting: "
For example, in a business meeting, they may want to look and feel powerful, smart, and creative as well as friendly. Then we translate these descriptors to traits in clothing".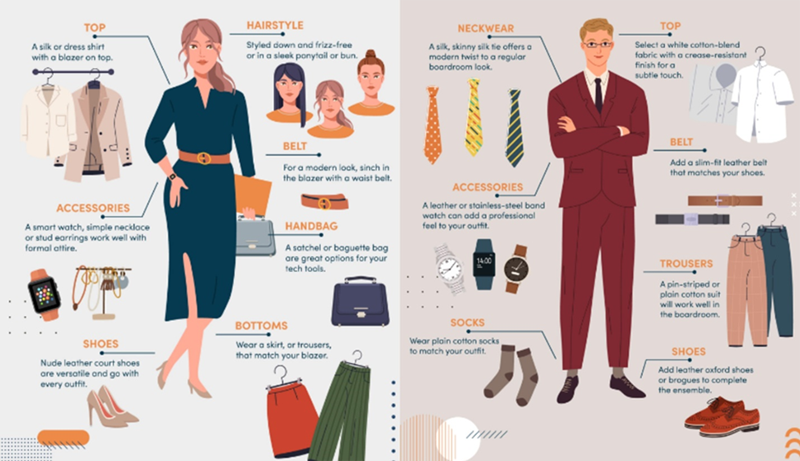 Dressing is as necessary as speaking smartly, so everyone should pay attention to how to dress for business meetings. Choosing the right outfit for a business meeting shows your expression and how others perceive you.
To create proper attire for your business meetings, you should fulfil these steps:
1. Top
When choosing the top, you should be careful because that is the first item that catches others' attention. For women, it is preferable to wear a silk or dress shirt with a blazer. Shirts or blouses should be formal and not too showing. On the other hand, men should also wear regular formal shirts. Furthermore, they can add a blazer to make their outfit look classier and more presentable.
2. Bottoms
The bottoms should match your blouse or blazer. Women can wear trousers or skirts but don't forget to double-check that it is not too short. Likewise, men can choose trousers that match their blazer. They can wear a pin-striped or plain cotton suit to make their outfit unique, meanwhile suitable for the meeting.
3. Shoes
Despite the clothes, shoes are a significant component of your outfit. Rule number one is to remember not to wear sports sneakers at business meetings. Instead, women can try pumps, loafers, or heels to complete the ensemble, whereas men can add leather shoes or brogues to their outfits.
4. Accessories
Accessories tend to change the whole outfit. Choosing dainty and minimal accessories while dressing for a business meeting is essential. Women can wear necklaces or stud earrings that are simple, subtle, and work well with formal dressing. On the contrary, men can wear ties that offer a modern twist to their attire. Likewise, both of them can wear belts, which complete the outfit better. If you want your ensemble to look more refined, you can wear watches.
Watches are the main accessory to make you look more professional. Different types of them,
like swiss made watches
, can play a fundamental role in your look. Those watches meet the highest quality standards in the industry. Every watch is equipped with unique features to add more functionality and comfort, which helps you to choose the watch that matches your style. Their design makes them comfortable on your wrist, and they will make your attire more polished. All accessories help you feel more confident, and swiss made watches are one of them.
5. Hair
Hair is a component that you should not ignore. It matters approximately as much as your outfit. Women's hair should be neat, so they have to choose hairstyles that keep their hair out of their face, like styled down and frizz-free or in a sleek ponytail or bun, whereas men should keep their hair well-trimmed and tidy.
Wearing the right outfit in a business meeting holds a value of importance that everyone wants to achieve. These steps will help you to create the proper attire that suits you for any business encounter. By selecting your style, you will create outfits that will help you leave the impression of a credible, responsible, and successful professional. If you want to feel all those feelings, you have to accomplish these goals, and then you will be in the spotlight of a business meeting.