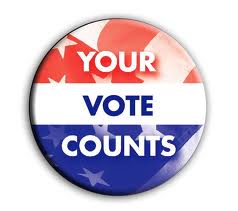 Election day is upon us! After what seems like an especially long campaign, it's finally all over but the celebrating (or the weeping). We've seen a number of stories come out during this election season (purportedly as a result of the Supreme Court's "Citizen's United" decision) that describe an increasing tendency for some employers to "encourage" their employees to vote for one candidate versus another.  Whether it's company-wide memos in favor of the CEO's favorite candidate, or "mandatory" participation in political rallies for one party over another, or even going so far as threatening job loss for a wrongly cast ballot, there's one thing we are certain of.  It's a very bad idea. By all means, encourage them to excercise their right to vote and participate in our democracy. Go the extra mile and allow them time off in order to do so. They'll think you're a hero! But please don't badger, intimidate or coerce your employees into voting the way you want them to. Then they'll just think you're a heel.
Jeffrey Pfeffer over at the HBR Blog Network agrees. Besides being just the wrong thing to do, it probably won't work (we think it will backfire big time) because as Jeff points out...
You probably won't sway them.
It diminishes your influence in other realms.
It takes you off-message.
There are many challenges to running a company and maintaining a workforce that's both committed and engaged and rooting for your company's success. As Jeff says: "The last thing a company facing a difficult economy and competitive challenges needs is a CEO that uses communications channels with employees to introduce yet another distraction: Politics."  We couldn't agree more. Read Jeff's complete blog posting at HBR here.