Your work environment and all of its processes are constantly evolving depending on your industry and emerging innovations. For a few years now, cloud computing has been at the forefront of all those changes, allowing businesses to adapt more quickly and to help their employees thrive. Cloud tech is known for its flexibility, reliability, and ever-growing security. Naturally, brands of all shapes and sizes are doing their best to maximize its use across the board.
However, most companies don't see beyond the perks that aid the processes themselves, so they delay
introducing newer solutions
or more advanced tools and protocols. In reality, the cloud primarily benefits the people that use it every day: your employees. The crucial element here is that it's not enough to just have some cloud solution available, but to actually put it to use properly and strategically.
Understanding the impact cloud technology can have on your teams might serve as the perfect inspiration for implementing more versatile cloud-based options. Here, we'll tackle a few of the most notable benefits you can expect your employees to experience as soon as you start using your cloud solution to its full potential.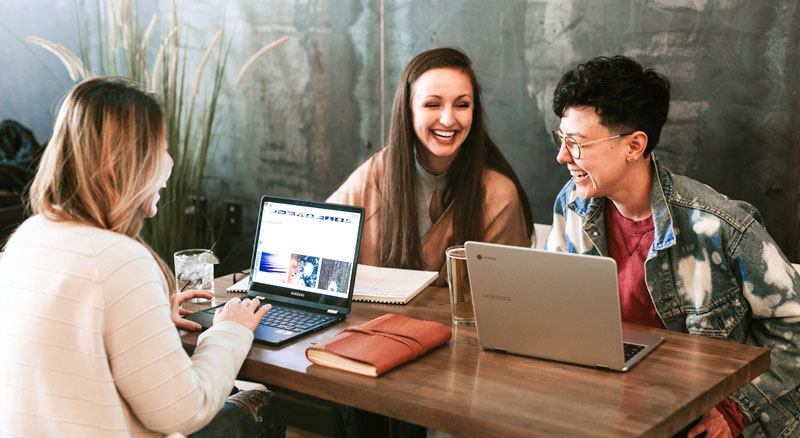 Photo by Brooke Cagle on Unsplash
Flexible and remote work models
We're all sick of mentioning the pandemic, but it has definitely affected how businesses work nowadays. The trend of remote work, digital nomadism (now on a break), and home-based collaboration has been a long time coming, but the health crisis has pushed more brands to
find a flexible model
to keep moving forward.
Stressed, often overworked, and ultimately worried about their future, employees feel much more at peace knowing that they have the capability to keep working, even remotely.
In that sense, cloud technology is allowing employees to retain their jobs, ensuring their financial stability in times of uncertainty, and it's making it possible for companies to keep operating remotely.
Real-time collaboration, globally
With cloud on the rise, companies are also making different, more diverse hiring decisions, enriching their corporate culture along the way. Relying on effective
cloud services
helps employees collaborate seamlessly, thus eliminating any delays and minimizing organizational setbacks.
No matter where your teams are located, they are able to access the same files, documents, and projects, and leverage the same collaboration tools in real-time.
Effortless work is the key prerequisite for employee satisfaction. Cloud tech is the only way to enable that with international teams, or even small-scale organizations whose teams need to work with external freelancers.
Legal compliance simplified
When working with sensitive data, be it internal or external, employees are often at a complete loss as to how they should handle the process and what they need to do to ensure safety. Not to mention that in businesses that provide legal services, the need for high levels of security and compliance is all the greater.
Taking the pressure off employees is possible
with cloud-based legal software
that you can use to elevate security, data protection, but also employee satisfaction. With automated processes, stronger recovery protocols, and compliance taken care of, your teams will be able to focus on their core assignments.
Access to numerous tools and resources
Cloud solutions might be stand-alone platforms, but over the years,
software tools
that would exist independently are now widely available through cloud services, to enable better collaboration among teams. That said, your teams can structure their work much better with these tools, allowing them smarter organization, more time, and significantly less menial work.
What's more, teams from different departments can easily work together through those tools, without overburdening the system itself. From IT processes, development, cybersecurity, all the way to project management and marketing, employees can work in an integrated environment with many helpful digital tools at their disposal.
Smooth scalability for your teams
Companies striving to grow often build strategies that focus on the end result, without worrying about the impact on the employees. However, if your infrastructure, or at least your cross-team collaboration processes reside on the cloud, growing your business means not imposing any growing pains on your employees.
They can keep working on their projects as you slowly adapt your cloud solution to meet the new requirements of your targeted expansion. As you start bringing in new employees and clients, the onboarding is easier via the cloud, you can provide ongoing training to newcomers, and your current employees will keep doing what they do best.
Accountability and transparency
Finally, working in a unified environment has one ultimate perk for your staff. It helps them get a clear overview of everything that's going on in your organization as well as their own role in every process.
This boosts accountability
among employees, which is crucial in the modern workplace, as it enhances productivity and collaboration.
Ultimately, working on the cloud ensures company-wide transparency, which motivates people to keep working towards the same goals. Knowing where your business stands and where you want to be in the future is a tremendous driving force for employees to stay on track and feel like valued members of an organization.
Professional life is much easier with the cloud at your disposal. With a team of cloud experts properly managing your cloud tech and environment, you can be certain that your business is making the most of this technology, to the maximum advantage of your employees.
Ultimately, with satisfied, organized teams, your entire business is much more productive and successful. Focusing on making your teams happy, it seems, will inevitably provide you with the resources to improve your entire brand presence.