Employee Satisfaction and Engagement Surveys
What makes Insightlink's 4Cs different?
Insightlink is unique in examining all aspects of the employee experience through the "4Cs" - Commitment, Culture, Communications and Compensation. An Insightlink 4Cs survey will help you maximize your human capital by providing not only an insightful, strategic analysis but also by highlighting action to create change and improve employee engagement within your organization. Don't start an Insightlink 4Cs study unless you are ready to make strategic improvements in your organization.
Insightlink's employee surveys let you see where your company stands on each of the critical 4Cs of employee engagement and satisfaction: Commitment to assess employee engagement, Culture to gauge morale, camaraderie, leadership and accountability, Communications to identify roadblocks to effective management and Compensation to measure employee perceptions of pay and benefits.
The 4Cs Employee Survey can be easily tailored to fit your company's needs by adding topic areas and/or individual questions to address the specific areas of concern you may have. With Insightlink's 4Cs approach, you are not just getting a survey, you are getting survey experts.
And you're getting much more that just an engagement score. You'll see the FULL PICTURE of how your employees experience your organization.
What does Insightlink's 4Cs service include?
We will consult with you to understand the key issues in your organization. This helps us both to design your survey and to choose the best method(s) for survey deployment. Depending on your budget and the options you choose, we will provide the following:
Data collection:
Surveys can be completed online, via hardcopy surveys or using a mix between the two. Online surveys are the most economical solution, but depending on your work force, hardcopy surveys may be more appropriate for some or all of your employees. With your input, we can easily decide what method would work best for your organization. We can also handle data collection in multiple languages.
Reporting of open-end responses:
Read your employees' comments exactly as they are provided while still protecting their confidentiality. These comments literally let you "hear" your employees speak candidly about your organization, due to Insightlink's promise of anonymity. Optionally, we can analyze and extract major themes from provided comments and report them as percentages.
Insightlink's 4Cs Importance/Performance Analysis:
An important part of all Insightlink 4Cs analysis is to show you the gaps between your employees' expectations and your organization's performance. By reviewing and summarizing the gaps of at least 20 percentage points, you can easily get your arms around the main problem areas within each of the 4Cs. Since these gaps are shown visually, this is one of the ways Insightlink fulfills our promise to make data analysis as simple and straightforward as possible.
Insightlink's 4Cs Loyalty Matrix:
The Loyalty Matrix creates four segments within your work force and tells you both how engaged your employees are and how much turnover might you be able to prevent by taking action based on the results. The four segments are: Committed Loyalists, Satisfied Opportunists, Change Seekers and Dissatisfied Compromisers. Committed Loyalists should represent at least 55% of your employees and Insightlink's recommendations focus on what steps you should take to maximize the proportion of engaged Committed Loyalists working at your organization.

Insightlink's 4Cs Engagement Index:
Are your employees highly motivated by the culture and work environment at your organization? Since higher levels of motivation have a direct link to productivity and profitability, it is critical for you to see where your employees stand. In addition, Insightlink's analytical expertise will help you see what action is needed to improve the level of motivation at your organization.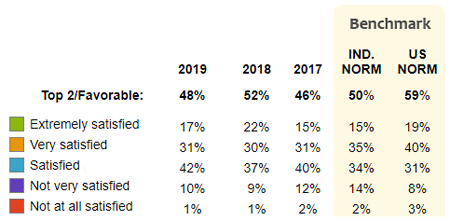 Insightlink's 4Cs Employee Satisfaction Benchmarks:
How do you compare against other organizations nationally and within your industry? Unlike many of our competitors, we do not use our client's data in our Benchmark Norms. Why? Because employee opinion norms are only valid when they are based on a representative sample of employees and no collection of client surveys can meet this absolutely critical requirement. Instead of using our clients' results, we conduct a National Benchmark study each year among a representative sample of employees that is large enough for use to also give norms for major industry classifications. This extra step demonstrates our commitment to the integrity of our norms and our reassurance of quality.
Insightlink's 4Cs Comprehensive Strategic Analysis Report:
This report includes a detailed narrative report with our expertly-written Executive Summary and Recommendations.
Data archiving for future trend analysis:
Once you complete a benchmark 4Cs study, Insightlink can easily show you trend data from your past surveys so you can quickly determine what changes are taking place within your organization. This trend data will also instantly demonstrate the improvements that have resulted from your action plans.
Insightlink's 4Cs Action Planning Workbook:
In addition to summarizing your results in either a Graphical Summary Report and a Comprehensive Strategic Analysis Report, you may request a copy of Insightlink's 4Cs Action Planning Workbook. Insightlink's 4Cs Employee Survey Feedback and Action Planning Workbook is designed to help you transform your employee opinion survey (EOS) results - also known as employee engagement or climate surveys - into useful and effective strategic plans.
CLICK HERE
for the Table of Contents and more information.
You will receive practical guides, tips, and forms to help you navigate, understand, and take action on your employee survey results.
click here to request a quote
or
call us at 866-802-8095 x705 for more information
.