WHY SURVEY YOUR EMPLOYEES?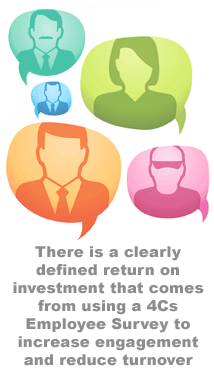 Extensive research proves that committed and loyal employees have a direct positive impact on your company's performance and profitability. A well-designed employee survey can help you improve employee engagement.
The Insightlink method lets you see where your company stands on each of the critical 4Cs of employee satisfaction:
Commitment
to assess employee engagement,
Culture
to gauge leadership and accountability,
Communications
to identify roadblocks to effective management, and
Compensation
to measure employee perceptions of pay and benefits.
Surveying your employees based on all four factors together can more effectively measure employee engagement than other approaches.
An Insightlink 4Cs survey can also help you effectively identify problem areas within your organization. With this valuable insight, you have another tool that can be used to improve your company's bottom line.
Our Fully Benchmarked 4Cs Engagement Surveys allow you to compare your company's performance, both within your industry, and nationally, in the U.S. or Canada. Our employee questionnaires can be deployed online, or by paper, in multiple languages and in as many locations as your organization requires. Whether you have 50, or 50,000 employees, with, or without Internet access, we can tailor a solution that's both cost-effective and appropriate for your needs.
Get a no-obligation quote now
.
We also have extensive
Benchmark Norms
for most industries in the USA and Canada. Find out why valid normative data is critical to the success of your project and your action plans.
Current Articles and White Papers:
5 Secrets Every HR Professional Should Know
The 6 Keys to Effective Employee Praise
Employee satisfaction studies consistently show a link between engagement and recognition.
Understanding Employee Engagement
How we approach employee engagement.
2011/2012 Norms Bulletin
Loyalty and Engagement - Connecting Human Capital to the Bottom Line.
Employee Satisfaction and Customer Satisfaction
Leveraging the Connections between Employee Engagement, Customer Satisfaction and Organizational Strength.
Action Planning
A critical component of successful employee satisfaction surveys.
Employers and Employees
The Importance of Employee Commitment and Engagement.
How To Keep Your Top Performers
Strategies for retaining the employees who make your business profitable.
A Guide to Conducting Employee Surveys
Thinking about employee satisfaction surveys? Our research guide can help in your decision making process.
The State of Employee Satisfaction
What's new and current in the industry for measuring and reporting on employee opinion.
Newsletter Archive